Description
Looking for choir games that will build the solfege skills of your singers? "The Choir Room is LAVA! Solfege Version" is what you are looking for!
Many of us played "the floor is lava" game growing up. And now, that game is a fun, engaging activity for your choir! The game can be played as part of virtual learning, or played in-person using technology. Or, you can print off all the materials and play it like an "old school" board game!
How do you play the game?
Players/teams can move across the board by singing with solfege or by completing some other task, like chanting the example using solfege or by simply identifying the solfege syllables. The game is flexible to meet your learning objectives!
Game materials consist of a gameboard and three sets of solfege examples, organized by their difficulty level. Students can play as individual players or teams, with each player/team completing a task in order to move across the Choir Room.
In what format is the game?
Game materials will be provided in Google Slide format, but you will also receive the materials in PDF/JPG format in case those formats are easier to access. With Google Slides, make sure you MAKE A COPY so that you get full access to the game!
Does the game have different difficulty levels?
YES! For those of you in classrooms where your students are not yet ready for the Level 3 difficulty examples, I have added "Beginning" versions of the game that only include difficulty levels 1 and 2 on the Gameboard!
Is there help in learning how to play the game?
YES! You will also receive a PDF Game Guide that will walk you through how to play the game and frequently asked questions. There's even a video tutorial of the game to assist you!
Hope that this becomes one of your favorite choir games. And remember, watch out–because "The Choir Room is LAVA!"
Gameboard: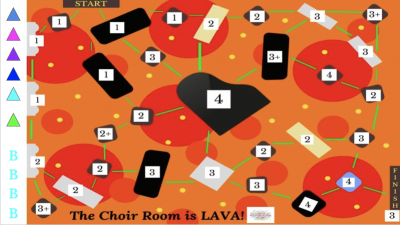 Solfege Example: