The Choir Director Corner
Bringing Resources, Support and Community to Choir Directors Everywhere!
What is the Choir Director Corner?
Well, it started during my student teaching experience, as I started to realize all of the things that I still needed to learn before I started my first job as a choir director.
More ideas started to form when a summer workshop presenter said during their presentation, "It doesn't matter how good your college or university education was, there's just no possible way that they can teach you everything you need to know in four years." And on a regular basis, I come across things that make me stop and say, "I wish I had known this two, five, ten years ago!"
I was encouraged by other choir directors to share my experiences, and became inspired to help other choir directors conquer many of the challenges that I had faced in my own teaching. This led to the creation of The Choir Director Corner!
Take a look at these Performance Recordings!
For many directors, awards and recognitions are one thing–but as they say, "The Proof is in the Pudding!"
Which is one of the reasons that I have listed many performance recordings of my high school choirs on The Choir Director Corner SoundCloud Page. These are here for you to enjoy and to serve as a resource–maybe find the next piece for your choir?
I hope you enjoy them!
Matt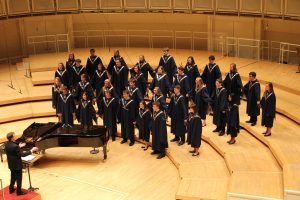 The Choir Director Corner is here to help you learn more about:
Managing a Choral Program
The Choral Rehearsal Process
How to Get the Sound You Want Out of Your Choir
The Logistics: Handbooks, Schedules, Rehearsal Plans, and More
Assessment
Choosing Repertoire for your Ensembles
Classroom Management
And More!
And most importantly, we will strive to do all of this in a positive, encouraging environment!
Matt grew up in small-town Iowa, and somehow found his way to Luther College. Singing with Weston Noble, he was inspired to make music and teaching his career.
After a Master's degree in Vocal Performance at the University of Iowa, Matt returned to the choir world, first as the 6-12 vocal music director at North-Linn Community Schools. He now teaches and then as the 9-12 vocal music director at Xavier High School. in Cedar Rapids, Iowa. He now teaches 9-12 vocal music at City High School in Iowa City, Iowa.
Matt has been fortunate to have so many wonderful choral experiences in his life, and he hopes to now give back by sharing those experiences with other directors.